On March 4, 2023, at 01:05 am GMT, the winners of the 2023 Anime Awards were officially revealed. The event was held at the Main Banquet Hall of the Grand Prince Hotel New Takanawa in Tokyo, Japan, and was the first ceremony to be held in person since 2020. 
The Main Banquet Hall was glamorously decorated. Expensive, elaborate, and elegant crystal chandeliers hung graciously over the great number of people in the hall. All the guests sat around round tables on white spandex-covered chairs. On the center of their tables were bundles of flowers, which were surrounded by lit candles in glass cases, and each guest had a small porcelain plate with cutlery on either side. I should not forget to mention the pristine wine glasses beside each plate; every table had at least one large green bottle of champagne – after all, Napoleon once said, "Champagne! In victory one deserves it, in defeat one needs it!"
As the hosts of the awards ceremony walked in (Sally Amaki and Jon Kabira), applause filled the room. While this was happening, I looked around at the guests' plates. The food on each plate varied but was typical of what I would call 'posh' food. Most plates had small portions of food (supposedly expensive stuff), with some indistinguishable sauce smeared around the plate. Some guests had begun eating their food, leaving their plates looking like a crime scene – especially with that unidentifiable sauce – while others either had not touched their food or had empty plates.
Sally Amaki and Jon Kabira look at each other. They both nod, one after another. Sally then clasped her hands as she took in a deep breath.
"Hello everybody," she announced, filled with confidence, "I'm Sally Amaki. I'm so thrilled to be here with Jon Kabira with his fantastic salute to the anime fans."
"The pleasure is all mine, yoroshiku onegaishimasu," says Jon as if he was a new transfer student.
I've just realised that I made this sound as if I was sitting in that hall watching the ceremony live. Unfortunately, that was not the case. In fact, I wasn't even awake when this ceremony was happening. I did, however, watch some parts of the live stream's replay. Needless to say, I felt like there were a few things I should comment on.
So let me go through my thoughts of the night in chronological order.
Best "Must Protect at All Costs" Anime Character
Winner: Anya Forger, SPY x FAMILY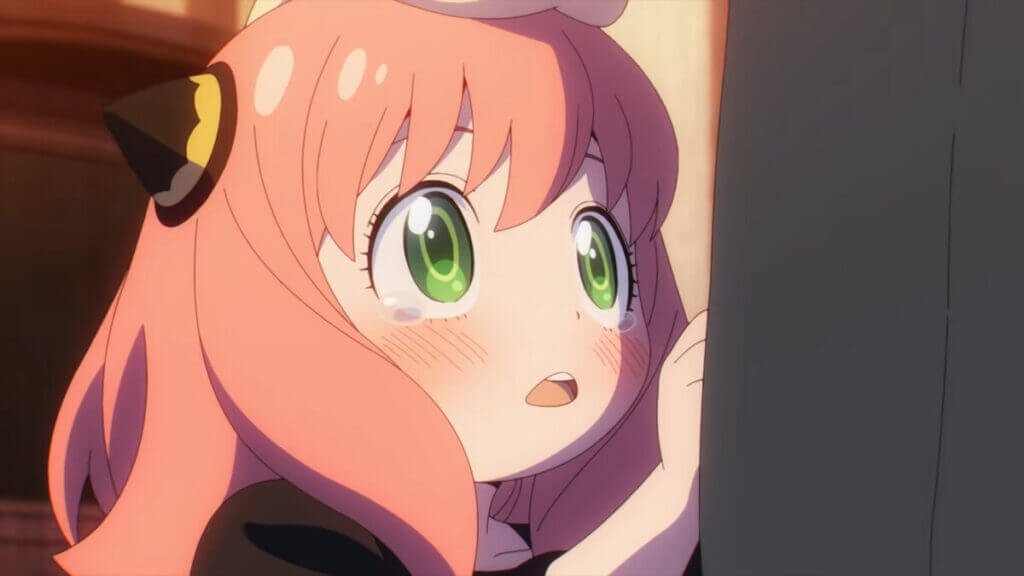 I can't really argue with this decision.
I'm going to take the completely reliable Urban Dictionary's definition of 'must protect at all costs': "When something is so cute and makes you feel warm on the inside that you want to hold them in your pocket. Or in other words, makes you feel uwu. Sort of makes that person seem like an object, but….uwu?"
This definition made me feel like vomiting.
I mean, Bojji's great, but he has a crown, so that puts me off.
Meanwhile, Kage… WHAT'S THIS THING SUPPOSED TO BE?? 
Kotaro Sato lives alone, so I'm sure he can protect himself?
Marin Kitagawa. I mean, she's great (she's a cosplaying gyaru!!), but I really don't think I'd like her in my pocket – or any teenager for that matter. 
Shoko Komi cannot communicate. Okay. Cute, but not enough to put her into my pocket…
Best Anime Opening Sequence
Winner: "The Rumbling" by SiM, Storyboard and Direction from Takashi Kojima, Attack on Titan Final Season Part 2
Have I told you that I dislike Attack on Titan with a strong fiery passion? Have I not? Oh, well, I dislike Attack on Titan with a strong fiery passion. 
The opening is like those stereotypical action, dark, mystery-type openings with a screaming middle-aged man in the background, perhaps imitating a goat, over a metal track, making my ears bleed – blood splurging everywhere. If you like this opening, you need help.
Now, in my opinion, Chiki Chiki Ban Ban should have won. I mean first of all the song, "Chiki Chiki Ban Ban" by QUEENDOM, is just so good. It makes me bop my head harder than any Mr. Bean bobble head vinyl figure. Also, the animation is just cool – JUST LOOK AT THE DANCING!! Plus, Ya Boi Kongming! is just a cool anime in general.
"Mixed Nuts" by Official HIGE DANdism, Storyboard and Direction from Masashi Ishihama, SPY x FAMILY is good as well. However, I wasn't a fan of the changing art style from the typical anime style at the start of the opening into something that looked like something straight out of a Picasso painting. But still, it's far better than the Attack on Titan opening. 
"Naked Hero" by Vaundy, Storyboard and Unit Direction from Shingo Yamashita, Ranking of Kings (Cour 2) is okay. Vaundy's an amazing singer, but hear me out: the title "Naked Hero" puts me off. Not to mention that weird prince who creepily caresses Bojji… Ew…
Cyberpunk: Edgerunners gets a massive "NO" from me.
"Zankyosanka" by Aimer, Storyboard from Haruo Sotozaki, Animation Direction from Akira Matsushima, Demon Slayer: Kimetsu no Yaiba Entertainment District Arc is extraordinary. I love Demon Slayer. I mean, I read the whole manga series in 24 hours. And, of course, this opening does not disappoint. The song is absolutely phenomenal and the animation is cleaner than a baby's bottom. That being said, however, I just felt like Opening 1 was a little better; Lisa's "Gurenge" gives me inexplicable chills that "Zankyosanka" cannot… 
Best Anime Ending Sequence
Winner: "Comedy" by Gen Hoshino, Storyboard and Direction from Atsushi Nishigori, SPY x FAMILY
This category was a tough one, but I agree with the winner being SPY x FAMILY. Look, I don't think anyone can beat Anya here. Not only that, the transitions and animation of the ending are just incredible. Furthermore, the song feels like it fits the series as a whole; a chilled-back, catchy song that melts all your worries away. The lyrics convey a love that is beautiful and heartwarming, "And every day is a comedy with you", whether it be familial or romantic. 
Attack on Titan gets a wailing "NNNNOOOOOO" from me.
"Koi no yukue" by Akari Akase, Storyboard and Direction from Futata, My Dress-Up Darling was my second choice after SPY x FAMILY. It has this perfect cutesy vibe both from Akari Akase's brilliant singing as well as the animation style. From the colour choices to the character design, it's an ending that has been stuck in my head for countless days. 
"Koshaberibiyori" by FantasticYouth, Storyboard and Direction from Kouki Fujimoto, Komi Can't Communicate (2nd series) is a beautiful and minimalistic ending. I enjoyed this ending, but, as I just said, it's minimalistic. Of course, less is more in this case, and it conveys the series very well, but being put up against "Comedy" and "Koi no yukue" I just don't think it's up to par. Still, the art style is simply mesmerising. 
"My Heart Has Surrendered" by Airi Suzuki, Storyboard and Direction from Nichika Ono, Animation Direction from Norifumi Kugai, Kaguya-sama: Love is War -Ultra Romantic- initially gave me 80s vibes. The song itself is great and the animation is amazing. However, I felt like the story the ending had (Shirogane flying to some other planet) just felt out of place. It turned from rom-com to sci-fi…?
"Yofukashino Uta" by Creepy Nuts, Storyboard and Direction from Tomoyuki Itamura, Animation Direction from Haruka Sagawa, Call of the Night just doesn't fit. The opening was one thing – in my opinion, it just about fit the premise of the series – but the ending was not it. I didn't really want Nazuna Nanakusa doing weird poses. Despite what I say, a lot of people seem to like the ending, stating that it "oozes style and expertly captures one very specific eccentric atmosphere from the visuals to the music." Honestly, whatever floats your boat.
Best Drama Anime
Winner: Attack on Titan Final Season Part 2
I would rather put my foot in my mouth and suck every individual toe than accept this. If it was Cyberpunk: Edgerunners I might, just might, accept it. But this? NO!
86 Eighty-Six is cool, but not really cool enough. Dance Dance Danseur makes me have a breakdown every time I see the characters' long, lanky necks that could snap at any moment – just like my mental state. 
I enjoyed both Kotaro Lives Alone and Made in Abyss: The Golden City of the Scorching Sun. I feel like despite their simple, 'cute' artstyle contrasts with the dark nature of their series, especially in Made in Abyss (a really really great show). Honestly, I wanted Made in Abyss: The Golden City of the Scorching Sun to win.
Best Action Anime
Winner: Demon Slayer: Kimetsu no Yaiba Entertainment District Arc
YES! Good series and a really good arc!
Screw Attack on Titan and Cyberpunk: Edgerunners. They don't deserve my support.
Jojo's Bizarre Adventure: Stone Ocean was great, but, for me, the CGI let it down greatly. 
I haven't yet watched Lycoris Recoil – I've heard good things, but I'm not in a position to talk about this series.
SPY x FAMILY is cool, but the action is slightly undermined by the comedy aspect of this anime.
Best Supporting Anime Character
Winner: Anya Forger, SPY x FAMILY
This is perhaps the only correct answer. Everyone else falls short of Anya including Yor Forger (sorry!).
Best Main Anime Character
Winner: Eren Jaeger, Attack on Titan Final Season Part 2
Whoever voted for Eren Jaeger, please let me know. I feel like I need to have a serious chat with you. No, actually, I don't need to have a chat with you, YOU NEED A CHAT WITH A THERAPIST.
In all fairness, out of the nominees – Bojji, Chisato Nishikigi, David Martinez, Loid Forger, and Marin Kitagawa – I felt as if there wasn't a standout amazing main anime character. If anyone, I would choose Marin Kitagawa. She's extremely likeable and just a joy to watch. 
WHY EREN JAEGER?!
Best New Anime Series
Winner: SPY x FAMILY
I feel like this one was obvious. The only other anime that would compete against SPY x FAMILY would be Ya Boi Kongming!
Best Original Anime
Winner: Lycoris Recoil
I haven't watched any of the following:
Lycoris Recoil
BIRDIE WING -Golf Girls' Story-
Healer Girls
The Orbital Children
Vampire in the Garden
YUREI DECO
So, I'll just judge them by their names. 
Lycoris Recoil seems cool. It must be about guns. And maybe sweets. 
BIRDIE WING -Golf Girls' Story- is about golf. I don't really like golf.
Healer Girls is about girls that can heal. Generic and basic. Why not Healer Boys…?
The Orbital Children must be about space. Seems okay.
If a vampire was in a garden, surely they'd burn in the sunlight?
YUREI DECO… WHY'S THE TITLE SCREAMING AT ME?
Yes, Lycoris Recoil is a good choice.
Best Anime Character Design
Winner: Akira Matsushima, Demon Slayer: Kimetsu no Yaiba Entertainment District Arc
No complaints about this one. Each character has an exceptional design with a huge amount of thought behind each character – from their names to their fighting style.
Most importantly, for this category, the designs stay true to the manga. I feel like Jojo's Bizarre Adventure: Stone Ocean would be a close second. Every other series felt fairly basic. I just outright disliked Cyberpunk: Edgerunners though.
Best Animation
Winner: Demon Slayer: Kimetsu no Yaiba Entertainment District Arc
This category nearly gave me a heart attack. I was extremely tentative to see the winner of this category. It's easy to say, however, that I am incredibly happy that Demon Slayer got this award.
The animation in Demon Slayer is simply just a work of art. If you need proof, search up 'Demon Slayer Season 3 Final Fight'. That's just one piece of proof out of many. Everything is so well-made; for me, the fights just feel intense, dramatic and artistic. Each scene seems delicately drawn without too many flashy and destructive effects – the focus is on the fight itself.
In my opinion, Demon Slayer: Kimetsu no Yaiba Entertainment District Arc trumped all the competitors in this field. Especially Attack on Titan (I would have shoved my fist in my mouth and run, with clothes on, into a filled bathtub if Attack on Titan won Best Animation…).
Best Continuing Anime Series
Winner: One Piece
It just had to be. There's no complaining. At. All.
Best Romance Anime
Winner: Kaguya-sama: Love is War -Ultra Romantic-
Don't know how to feel about this. I really preferred watching Shikimori's Not Just a Cutie and My Dress-Up Darling in terms of romance. I mean, people with an extreme case of fragile masculinity probably didn't like Shikimori's Not Just a Cutie, but it's just a really wholesome anime. The only problem I had against My Dress-Up Darling was the needless fan service, but that's a whole different article.
Kaguya-sama felt like it took 500089034798329480529485092855 years for the romance to develop (i.e. to get to their first kiss). It was also the type of anime that wanted me to pull my hair out if any advancement was interrupted. 
Well, I'm not the majority here though.
Best Fantasy Anime
Winner: Demon Slayer: Kimetsu no Yaiba Entertainment District
This is just obvious. Made in Abyss is great, but no. Anything that has '(cour 2)' can rightfully dig itself a hole and wallow in self-pity at its own seeming obnoxiousness (why use French?). And isekai can lick a handrail.
I've skipped the music stuff because I can't be bothered to listen, so: Best Anime Film
Winner: JUJUTSU KAISEN 0
YIPPEE! AMAZING MOVIE! The creator of Jujutsu Kaisen can have my children! I got bored while watching any of the other movies. So, obviously, Jujutsu Kasien 0 is just better.
Best Anime Director
Winner: Haruo Sotozaki, Demon Slayer: Kimetsu no Yaiba Entertainment District Arc
I agree with this but cannot comment further as it is against my morals to slander real people. Plus, these directors work very hard.
Anime of the Year
Winner: Cyberpunk: Edgerunners
NNNNNNNNNNNNNNNNNNNNNNNNNNNNNNNNNNNNNNNNNNNNNNNNNNNNNNNOOOOOOOOOOOOOOOOOOOOOOOOOOOOOOOOOOOOOOOOOOOOOOOOOOO !!!!!!!!!!!!!!!!!!!!!!!!!!!!!!!!!!!!!!!!!!!!!!!!!!!!!!!!!!!!!!!!!!!!!!!!!!!!!!!!!!!!!!!!!!!!!!!!!!!!!!!!!!!!!!!!!!!!!!!!!!!!!!!!!!!!!!!!!!!!!!!!
This announcement made me curl up in a ball and cry. 
I should make clear I'm what you'd call an 'anime elitist.' This series, although I haven't watched it, feels like touching a dumpster fire. In fact, to me, saying its name, let alone typing it, gives me that icky feeling of having to grab and clean out all the food that remains from the drain. It's like stepping on animal excrement and accidentally touching it with your fingers, causing the smell (even after washing your hands) to linger throughout the entirety of the day.
I feel like I've just been mugged: hands tied, mouth gagged, rope rather scandalously tied around the rest of my body, my knees on the floor with little drops of water periodically plopping onto my forehead as the criminals pat me down and steal every little thing I own, eventually stealing my clothes. 
I would have accepted anything else. Well, maybe not everything (*cough* Attack on Titan Final Season Part 2 can rightfully lick the curb).
Final Thoughts
Next year's anime awards have got to be better or else I will send an angry email to Crunchyroll.
At least the music performances were great!