Fall 2023 is about to hit us with a whirlwind of anime awesomeness. It's that time of year when the leaves change colors and the anime scene gets a fresh coat of creativity. From high-octane action to heartwarming tales, this season's lineup has got it all – and we've got your back in sorting through the hype.
So, get comfy, grab your favorite snacks, and prepare to be hooked as we dive into the coolest, quirkiest, and most compelling anime picks you won't want to miss. Whether you're a seasoned otaku or just dipping your toes into this wild world, our handpicked list will guide you through the best anime shows that Fall 2023 has to offer.
---
10. The Seven Deadly Sins: Four Knights of the Apocalypse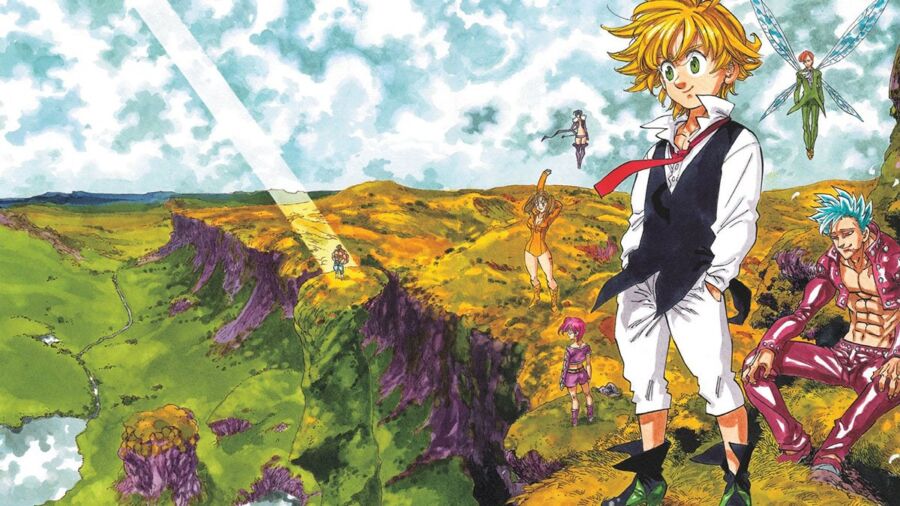 Airdate: October 8, 2023 to ?
The Four Knights of the Apocalypse is the latest jam in the epic Seven Deadly Sins saga. We're talking prophecies, powers, and a dash of world-shaking chaos – you don't wanna miss this.
In this arc, an order of four knights with crazy unique powers is prophesized to stir up both destruction and hope. Camelot's Holy Knights and the Liones crew are on a race to either save the world or stop it from going kaboom.
But there's a twist – these knights are the Chosen Ones, and their destiny isn't exactly what it seems. As secrets unravel and knights step into the spotlight one by one, you are up for an adventure that'll leave you craving more.
---
9. The Saint's Magic Power is Omnipotent Season 2
Airdate: October 2023 to ?
The Saint's Magic Power is Omnipotent will be back with a highly anticipated Season 2. The spellbinding journey continues, and we're about to witness more magic, mystery, and maybe even a sprinkle of romance.
Sei's magical journey continues as she deals with the complexities of her newfound powers and uncovers the mysteries of her world.
With the Royal Magi Assembly in the mix and relationships taking intriguing turns, prepare for a whirlwind of spells, surprises, and maybe a little heart-fluttering magic.
---
8. Girlfriend, Girlfriend Season 2
Airdate: October 2023 to ?
Love triangles? More like love polygons! We're diving back into the hilarious and tangled world of Naoya, Saki, and Nagisa, and things are about to get even crazier.
For fans who enjoy romantic rollercoasters with a side of comedy, Girlfriend, Girlfriend is a way to go. Season 1 gave us a taste of the chaos that comes with juggling multiple relationships, and now we're back for round two.
Fans are eagerly anticipating the next chapter in this awkward, heartwarming, and often hilarious love story.
---
7. The Apothecary Diaries
Airdate: October 2023 to ?
If you're all about sneaking peeks behind the curtains of history, you're in for a treat. The Apothecary Diaries dishes out a mix of old-school court vibes, a brainy main character, and a sprinkle of suspense.
In this anime, Maomao gets snatched and ends up in the Imperial Palace as a laundry maid. Her game plan? Keep things low-key, serve her time, and bounce back to her dad, who's an apothecary vibe. But you know what they say about best-laid plans – things might just take a turn for the unexpected.
---
6. Our Dating Story: The Experienced You and The Inexperienced Me, Kimizero
Airdate: October 2023 to ?
High schooler Ryuuto Kashima's stuck in a wild game that leads to him confessing to a popular gyaru girl Runa Shirakawa. They kinda-sorta start dating for a random reason, and things get even crazier when Ryuuto overhears Runa's romantic encounter and ends up in her room.
Despite being total opposites, they start clicking, turning everyday chaos into a surprising romance that fans of quirky love stories will devour.
---
5. The Faraway Paladin Season 2
Airdate: October 2023 to ?
The Faraway Paladin returns to whisk us away into a world of magic, adventure, and a dash of afterlife intrigue.
If enjoy otherworldly adventures and characters who embrace second chances, The Faraway Paladin has your name written all over it. Season 1 left us craving more of Will's journey from a meaningless existence to a noble paladin with some unconventional guidance along the way and we can only hope that Season 2 will be equally good.
---
4. Frieren: Beyond Journey's End
Airdate: September 29, 2023 to ?
Calling all fantasy dreamers! Frieren serves up an ageless adventure that tugs at your heartstrings.
Frieren is an elven mage who kicked the demon king's butt with a hero squad – Himmel, Eisen, and Heiter – bringing world harmony.
Fast forward, Frieren's back after 50 years. Her former squadmates have significantly aged, and she's on a quest to fulfill promises and soak up magic knowledge. With an eternal life lens, she embarks on a journey with Fern, teaching, reminiscing, and chasing celestial farewells.
---
3. Tokyo Revengers: Tenjiku-hen
Airdate: October 2023 to ?
Tokyo Revengers plunges you into Takemichi's crazy adventure, where he's time-hopping to fix his delinquent past and save his girl. Picture epic gang clashes, rewind button chaos, and friendships that'll have you saying, "I need a crew like that!"
The anime is a mix of action-packed drama and nostalgia, keeping you hooked, rewinding, and craving more!
---
2. Dr. Stone: New World Part 2
Airdate: October 2023 to ?
Science enthusiasts and fans of captivating adventures, this one's tailored just for you. If you're fascinated by the wonders of innovation and drawn to the intrigue of post-apocalyptic settings, Dr. Stone is a must-watch.
Dr. Stone: Stone New World Part 2 continues the compelling narrative that left us craving for more. As we pick up where we left off, Senku and his friends are still trying to rebuild civilization using the power of science.
---
1. Spy x Family Season 2
Airdate: October 2023 to ?
Whether you're a fan of suspenseful spy tales, heartwarming familial bonds, or the tantalizing allure of a budding romance, Spy x Family Season 2 guarantees an exciting concoction of action, humor, and emotional depth that'll leave you eagerly awaiting each new episode.
Spy x Family Season 2 is here to whisk us away on another adventure. As we dive back into the Forger family's world, we find Loid taking charge of his dual life – embracing his espionage mission while balancing the role of a devoted family man.
Drawing inspiration from the Cruise Adventure arc in the manga, Season 2 introduces us to a luxurious cruise vacation with the Forgers. However, the calm waters are far from safe, as Yor, the ever-watchful wife and mother, steps up to shield her family from relentless hitmen who threaten their tranquility.
BEFORE YOU GO…
Thanks for reading my article!
If you enjoyed it, please consider supporting me on Patreon. As a Patron, you'll gain access to exclusive perks like stunning AI artworks that are not shared anywhere else, personalized AI-generated art pieces, and the ability to shape the future of this blog by suggesting topics you'd like me to cover.
Your support means everything to me and enables me to keep creating content that I'm passionate about.
Also, you're welcome to join our 9 Tailed Kitsune Anime Discord community. We'd love to have you there!