[ad_top1 class="mb40″]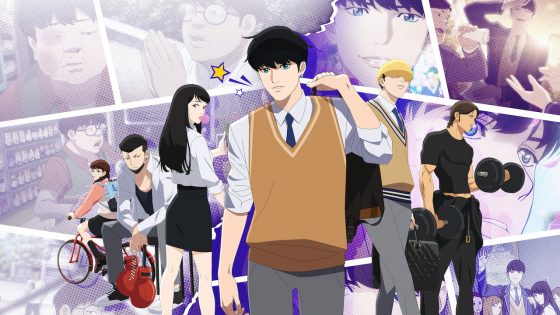 [sourceLink asin="" asin_jp="" cdj_product_id="" text="twitter" url="https://twitter.com/NetflixAnime/status/1573895069165387776?s=20″ ]
In the last five years, we have witnessed an increasing number of Korean Webtoons, also known as manhwa, being adapted into anime series such as Tower of God, Noblesse, and The God of High School, all finding relative success with either existing fans or carving out a new niche. Lookism is another such anime released on Netflix in early December adapted from the manhwa of the same name by author Tae-Jun Park originally published in 2014.
The story of Lookism follows high school student Hyeon Suk Park who gets relentlessly bullied at school for being overweight and poor, eventually getting to transfer schools to Jae Won High School in Seoul, known for a more liberal education programme with eccentric students. However, still running into trouble after immediately arriving in the area, the next day Hyeong Suk wakes up in a different body that is slim and attractive. Hyeong Suk attempts to lead two lives, running into all sorts of trouble but quickly noticing the difference in treatment immediately.
Two Very Different Lives

[sourceLink asin="" asin_jp="" cdj_product_id="" text="twitter" url="https://twitter.com/NetflixJP/status/1585058878894575619?s=20″ ]
The biggest plot point of Lookism is that of Hyeong Suk attempting to keep two lives going with no one finding out, which proves difficult. Body changing is an interesting concept for a storyline, but the twist for Hyeong Suk is that every time he falls asleep he wakes up in the other body, meaning that even in strange situations like falling asleep for the first time at his desk or passing out drunk drinking with friends for the first time, he wakes up in the other body.
This makes balancing his attractive and unattractive lives a struggle, opting to attend school in his thin, attractive, and athletic body to prevent being bullied, and using his original body to work night shifts at a convenience store. Interestingly he fares well in both, avoiding bullying at school due to his new physical prowess, and coping well at his job making genuine friends for the first time, but having to explain that the two Hyeong Suk's live in the same place to save on rent.
Good Music and Action

Despite coming off as a Slice of Life anime, following Hyeong Suk's transformation in high school, even working out at night in his original body to improve his life, music, and fighting end up playing a crucial role in the plot's progression. This is clear from his first fight with Jin Sung Lee, a boxer and bully at Hyeong Suk's new school, winning through his newfound athleticism and learned behaviours from being hit so often, eventually becoming friends after drinking together.
Music is the more interesting, and surprising story point, foreshadowed by Hyeong Suk's excellent singing and humming in the first episode in his small flat with his mother. The whole arc around music culminates with Hyeong Suk putting on a performance with Duk-Hwa Pyeon, a classmate that is constantly bullied by a group of guys in his music class.
Despite being bullied, Duk-Hwa still aims to become a rapper like Eminem, getting his family out of poverty through poetic bars. The two put on a stellar show at the school festival, but Duk-Hwa is ignored by a record label representative for Hyeong Suk due to his looks, really nailing home that Lookism's titular main theme runs consistently throughout with no narrative happy endings for the sake of keeping the audience feel-good.
---
Final Thoughts

[sourceLink asin="" asin_jp="" cdj_product_id="" text="twitter" url="https://twitter.com/NetflixAnime/status/1602860933453324288?s=20″ ]
Lookism is a great adaptation, shining light on a story that has flourished as a Webtoon, bringing it to a wider audience. The overall theme is a great critique of Korean society's pressure on people to look a certain way as well as their social standing, making for a sad look at life but through a unique and interesting perspective of a character like Hyeong Suk who lives both. What did you think of Lookism? Do you think there will be another season? Let us know in the comments!
[author author_id="126″ author="" translator_id=""]
[ad_bottom class="mt40″]