For HxH fans, this burning question is the most frequently asked one. Will our beloved Hunter x Hunter, also known as Hiatus x Hiatus, ever finish?
I decided to research whether it's even possible that the Hunter x Hunter series will be completed in the next few years to appease your (and my) curiosity.
The Current State of Hunter x Hunter Manga
Fans were filled with hope and joy after Togashi joined Twitter in May 2022 and started regularly "teasing" by posting various sketches with numbers. His bio says "formula ( ) . I will keep you posted on the progress of the manuscript."
とりあえずあと4話。 pic.twitter.com/OwoB4ljp1x

— 冨樫義博 (@Un4v5s8bgsVk9Xp) May 24, 2022
This came as a pleasant surprise since the manga was on hiatus for almost 4 years, starting from January 2019 to October 2022. Fans are used to Hunter x Hunter hiatuses by now but hey, we still feel the pain.
Hunter x Hunter has always been published in Weekly Shonen Jump, a popular manga magazine that has featured many well-known and successful manga series over the years (Dragon Ball, Naruto, One Piece, Bleach). Hunter x Hunter was first serialized on March 3, 1998, and has continued to be published in the magazine until the present.
On October 11, 2022, Shounen Jump announced the return of Hunter x Hunter manga on their official Twitter account.
Major announcement!!! Hunter x Hunter returns Oct 23! Brand new simulpub chapters are coming to Shonen Jump! https://t.co/71vuObOtms pic.twitter.com/yFLU0POddg

— Shonen Jump (@shonenjump) October 11, 2022
From October 23, 2022 (JST) onward, beginning with Chapter 391, a total of 10 chapters were serialized. Hunter x Hunter manga is currently at The Succession Contest arc, which is the 9th story arc. It takes place after Chrollo and Hisoka's fight at Heavens Arena and focuses on the journey of the Black Whale ship to the New Continent with the Zodiacs and Hunter Association. Kurapika is trying to retrieve the last of his clan's eyes from a prince while the Phantom Troupe is searching for Hisoka. At the same time, there's a dangerous competition among 14 princes of the Kakin Empire for the throne.
However, the excitement was shortlived because as manga readers found out in Weekly Shonen Jump issues 4-5, which was released on December 26, 2022, Hunter x Hunter is going on hiatus again.
Hunter x Hunter will go on hiatus in Weekly Shonen Jump issue 4-5 pic.twitter.com/9aHzfA9XpA

— Hunter x Hunter (@TheHxHSource) December 21, 2022
The latest chapter was Chapter 400, Secrecy, which was officially released on December 25, 2022 (JST). Since then, there has not been any official info about when the Hunter x Hunter manga will return.
The last tweet from Togashi dates back to November 22, 2022, and says "No400… completed. Subdivision of work in semi-digitalization was a complete failure because too much time was spent outside drawing. Exploring."
No400…完成。

半デジタル化での作業細分化は
作画外に費やす時間が多すぎて
完全に失敗でした。

模索中。

— 冨樫義博 (@Un4v5s8bgsVk9Xp) November 22, 2022
So, will Hunter x Hunter ever finish?
Given that Hunter x Hunter manga has 400 chapters so far and shows no signs of finishing soon, we would need at least 300 (or more) chapters for a satisfying ending that resolves the unsolved mysteries and ties up loose ends. But at the rate things are going, is it even feasible?
Yoshihiro Togashi, the creator of Hunter x Hunter, is currently 56 years old. If he continues to publish at the current rate (~10 chapters/year when not on a long hiatus), he will need at least 30 years more to finish the series.
Don't lose hope though, there have been mangakas who were active even at age 80 or older. One of them is for example Masako Watanabe, a seasoned mangaka who has been creating stories for longer than many current manga artists have been alive. She started in 1952 with "Suama-chan," published by Wakagi-shobou. Now 93 years old and with over 100 works, she's still going strong and not that long ago debuted her new series "Himegoto" on Shueisha's manga app "Manga Mee." Moreover, the average life expectancy in Japan is 84.62 according to WHO, which is the highest in the world.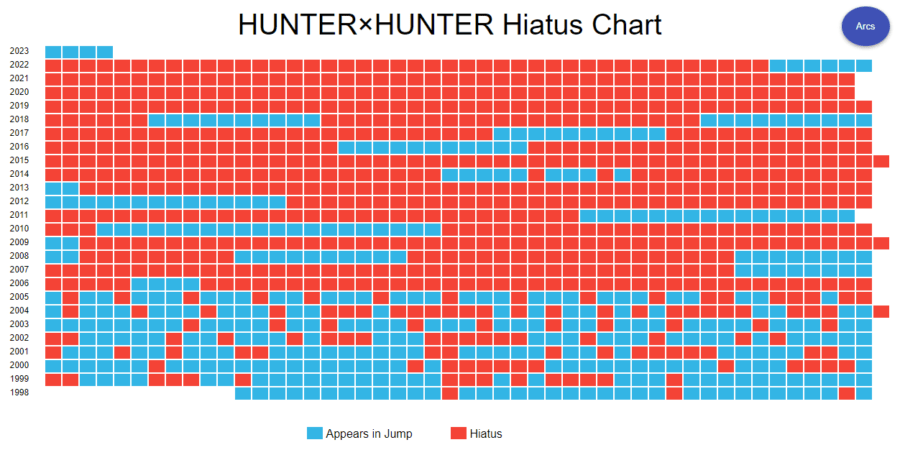 It's, of course, unreasonable to blame Togashi for frequent hiatuses. For those who aren't familiar with how it works with Hunter x Hunter hiatuses, basically, since 2006 Togashi has taken a lot of breaks from writing Hunter × Hunter. Some were due to health issues, but others weren't explained. Some people think it's because Togashi is a perfectionist who likes to do everything himself. In 2022, Togashi revealed he had back and hip problems. This made it hard for him to sit down, but he found a way to keep drawing while lying down.
He also explained that he had gotten burned out while working on his previous manga Yu Yu Hakusho. It ultimately resulted in the series's rushed, bizarre ending. We certainly don't want any low-quality ending for the best series out there, right?
Bottom line
It is uncertain when Hunter x Hunter will finish with possibilities ranging from completion within 20-30 years to never being finished to having a hurried conclusion. Fingers crossed for the first option!
Hi, my name is Mia, and I am the founder of 9 Tailed Kitsune. I am a big fan of esports, games, and anime. When I was around 7 years old, Phantom Thief Jeanne sparked my fascination for anime, and it has never faded!