Everyone feels good after watching a heartwarming and utterly adorable anime like My Tiny Senpai. The charming interactions between Shinozaki and the irresistibly cute Katase never fail to brighten the day. And you know what? If you're looking for more wholesome moments and cute romances, I've handpicked 10 adorable anime shows that will make your heart skip a beat.
From quirky office romances to schoolyard crushes, each of these shows captures the essence of innocent love and heartfelt connections. So sit back, relax, and let yourself be transported to a world where friendship, love, and laughter reign supreme.
10. Recovery of an MMO Junkie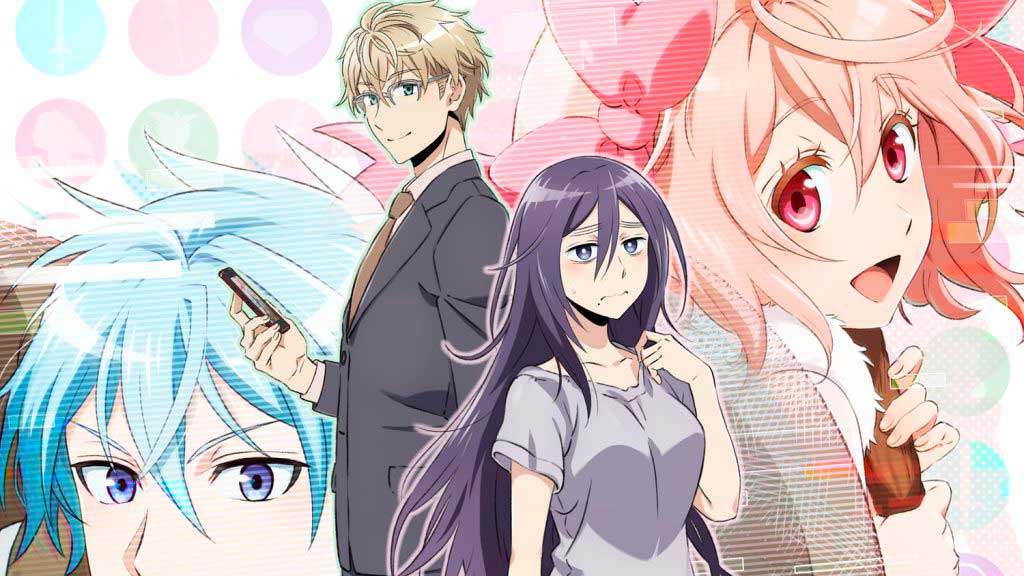 Sharing similar themes of work-life balance and unexpected connections, Recovery of an MMO Junkie and My Tiny Senpai captivate viewers with their charming and relatable storylines.
Moriko Morioka is a 30-year-old woman fed up with her boring office job. In Fruits De Mer, she ditches the dullness for some wild online gaming adventures.
As she creates her alter ego, Hayashi, she comes across the super charming Lily. But guess what? Lily is actually a cool dude named Yuuta Sakurai! And things are just about to get crazy when her virtual and real lives mix…
9. Servant x Service
If you're a fan of heartwarming slice-of-life romances and office shenanigans, then Servant x Service is the perfect anime for you! Imagine a workplace filled with quirky characters, hilarious situations, and a sprinkle of sweet romance.
Just like in My Tiny Senpai, Servant x Service is a workplace anime that explores the joys and challenges of workplace relationships, capturing the essence of genuine connections amidst the daily grind.
8. Do Your Best, Douki-chan
Do Your Best, Douki-chan is an adorable romantic comedy that'll surely leave you smiling! Meet Douki-chan, a spirited office worker determined to catch the eye of her coworker and win his heart. Sound familiar? Well, if you loved the sweet vibes of My Tiny Senpai, then you're in for a treat with this anime OVA.
From peculiar encounters to heart-fluttering moments, this cute anime will captivate your heart and leave you cheering for Douki-chan's quest to win her senpai's affection.
7. Working!!
Working!! offers the ultimate dose of comedy and workplace charm. Sota Takanashi's part-time job at Wagnaria introduces him to a bunch of zany coworkers, each with their quirks and charm.
If you loved the adorable romance and fun-filled atmosphere of My Tiny Senpai, Working!! is a delightful anime that'll leave you in stitches!
6. My Love Story!!
My Love Story!! is as sweet as it gets. This delightful series follows Takeo Gouda, a big and kind-hearted guy with a heart of gold. When he saves the small and cute Rinko Yamato from a train groper, a beautiful love story unfolds.
Similar to My Tiny Senpai, My Love Story!! will win you over with its touching characters and sweet love story.
5. Monthly Girls' Nozaki-kun
Are you on the hunt for an anime that'll make you laugh, blush, and maybe even facepalm at times? Monthly Girls' Nozaki-kun has got you covered! This one-of-a-kind romantic comedy takes the typical love story and flips it on its head, giving you a refreshing and hilarious ride.
In Monthly Girls' Nozaki-kun, meet Sakura Chiyo, a girl who summons up the courage to confess her feelings to the cool and aloof Nozaki. But here's the twist: he misunderstands her confession and thinks she's a fan of his shoujo manga. Next thing you know, she's roped into being his manga assistant!
4. New Game!
Aoba Suzukaze is a recent high school graduate who lands her dream job as a character designer at a gaming company. Join her as she navigates the ups and downs of the gaming industry while working with a bunch of eccentric coworkers.
Now, you might be wondering how this relates to My Tiny Senpai. Well, just like My Tiny Senpai's adorable office romance, New Game! delivers a delightful slice-of-life story with a dash of romance and plenty of touching moments.
3. Wotakoi: Love is Hard for Otaku
Wotakoi revolves around Narumi Momose and Hirotaka Nifuji, two quirky coworkers who share a not-so-secret love for all things geeky. From video games to anime and manga, they love it all. As they deal with the ups and downs of their office life, they discover that being true to their otaku selves brings them closer together.
Just like My Tiny Senpai, Wotakoi captures the charm of workplace relationships and the joy of finding unexpected connections with colleagues. It's an anime that celebrates love, friendship, and the beauty of embracing one's true self, making it a must-watch for fans of heartwarming rom-coms.
2. Uzaki-chan Wants to Hang Out!
Uzaki-chan Wants to Hang Out! is another romantic comedy like My Tiny Senpai with a well-endowed heroine who ends up teasing the male protagonist.
As a college freshman, Hana Uzaki reunites with her upperclassman, Shinichi Sakurai, who has become more reserved and prefers solitude. Determined to keep him from being "alone," Uzaki drags him into various comical situations, from movies to his part-time job.
Despite finding her irritating, Sakurai can't resist her fun and adorable antics, and their bond grows stronger, leading to hilarious misunderstandings about their relationship.
1. My Senpai is Annoying
My Senpai is Annoying is a slice-of-life romance comedy that comes as close as it can to My Tiny Senpai. Just by the title, you guessed it right: this lighthearted story takes place in an office and it's all about the developing romance between the petite and cute worker and her big Senpai.
Futaba Igarashi works at a trading company and depends on her senior coworker, Harumi Takeda, for guidance. However, Takeda's teasing and treating her like a kid can be annoying. Despite that, Igarashi values his reliability and helpfulness at work. As they spend more time together, their relationship goes beyond just being coworkers.
So, if you're in the mood for an adorable and heartwarming adventure that will keep you hooked from beginning to end, this is an absolute must-watch!
BEFORE YOU GO…
Thanks for reading my article!
If you enjoyed it, please consider supporting me on Patreon. As a Patron, you'll gain access to exclusive perks like stunning AI artworks that are not shared anywhere else, personalized AI-generated art pieces, and the ability to shape the future of this blog by suggesting topics you'd like me to cover.
Your support means everything to me and enables me to keep creating content that I'm passionate about.
Also, you're welcome to join our 9 Tailed Kitsune Anime Discord community. We'd love to have you there!