[ad_top1 class=""]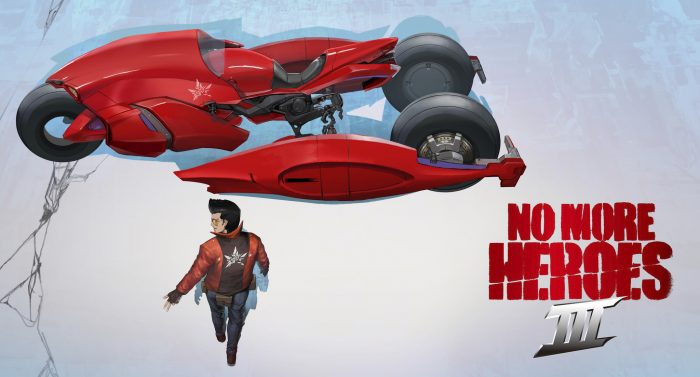 [sourceLink asin="" asin_jp="" cdj_product_id="" text="No More Heroes III" url="" ]
"Travis Has Gotten An Enhancement"
Game Info:
System: PS4/PS5, Nintendo Switch, Xbox Series X, PC
Publisher: X Seed Games, Marvelous USA
Developer: Grasshopper Manufacture Inc.
Release Date: October 11, 2022
Price:$59.99
Rating: M for Mature
Genre: Action
Genre: 1
Official Website: https://www.nmh3.com/
Otaku like for us here at Honey's Anime isn't usually considered super cool and tough, especially if you compare us to Travis Touchdown. The legendary otaku assassin from the world of No More Heroes should be known to everyone by now but definitely has had an interesting release schedule. The first two games came out pretty close apart but the third took an insane amount of time to release and all we got before that was a strange top-down arcade-like game which was okay. No More Heroes III did release last year in 2021 but shocked everyone by being a Nintendo Switch-only release…until now that is. Yes, folks, No More Heroes III is finally slated for multi-system release and we were lucky to nab the PS5 version to tell you guys and girls our thoughts. Should you re-enter the Garden of Madness once more or should you pass up this bloody otaku battle? Find out in our review of No More Heroes III for the PS5!
[ad_top2 class="mt40 mb40″]
He's Back and So Much Better Looking

[sourceLink asin="" asin_jp="" cdj_product_id="" text="No More Heroes III" url="" ]
Unlike we usually do, we're going to assume you didn't just jump into the insanity of the No More Heroes franchise at the third—technically 4th—entry and assume you know all about Travis and his mission to just kick-butt while somehow looking cool doing it. No More Heroes III is yet another maddening tale where an alien ship has come to Santa Destroy, California to wipe out humanity and obviously Travis isn't just going to watch his home get obliterated like that. Armed with his trusty beam katana, Travis is once again on a leaderboard to reach rank one intergalactic assassin but now, on the PS5.
Right from the gate, you'll notice No More Heroes III finally looks modern—maybe not the 2022 level of graphics we expect but considerably stronger than the original Nintendo Switch version we got last year. Aside from the graphics, the frame rate has been upped and during more intense fights we can tell that No More Heroes III was born for systems with a bit more power under their hoods. We usually don't focus on graphics being the main selling point for a port or enhanced version but for No More Heroes III, it actually is just the beginning of why these ports are stronger than the first release.
Feel That Beam Purr

[sourceLink asin="" asin_jp="" cdj_product_id="" text="No More Heroes III" url="" ]
For those who played the first two No More Heroes titles, you probably remember the goofy ability to charge Travis' beam katana—which runs on a battery—by shaking the controller in a rather…provocative way. No More Heroes III still has Travis charging his weapon as if he is holding something that isn't a beam weapon but while it feels less comical on a PS5 controller, we won't deny the feeling just has more impact. This enhanced feeling is not just applicable to chagrining his weapon but to the entire gameplay experience. Hacking through swarms of enemies and slashing at bosses feels so much more gratifying than it did on the Nintendo Switch. Combat feels more responsive—though sometimes a bit floaty still—and unleashing special combos just has a powerful feeling that was lacking on the Switch version. Basically, No More Heroes III plays significantly better on the PS5 and that made re-entering Travis' battle much smoother.
This is Still No More Heroes III

Updated visuals and enhanced frame rates might make you believe that No More Heroes III has been overhauled completely, right? Unfortunately, if you had any issues with the mini-games or the strange difficulty spikes of the original No More Heroes III, then we have bad news for you…those are still here. Despite being a full-priced game—$59.99—No More Heroes III has only really been visually and semi-internally powered up. The boring mini-games—which can be fun but if you played the original will feel boring—and the sometimes controller-crushing difficulty spikes return in this port and that might make it a hard sell for those who already beat No More Heroes III and don't care about Travis' hair looking even shinier than it did before.
Buy or Not to Buy

[sourceLink asin="" asin_jp="" cdj_product_id="" text="No More Heroes III" url="" ]
Alright, we know your main question is if this isn't your first time playing No More Heroes III. is it worth rebuying? The answer is, yes, honestly. No More Heroes III is still flawed in some ways and still isn't perfect but if you played all of the past games and love SUDA51 (Goichi Suda), then you know this is not going to disappoint you. Like us, we didn't mind replaying No More Heroes III despite it only having been a year since the last version came out and us beating that! No More Heroes III on the PS5 plays fine, looks incredible and made us want to keep supporting SUDA51.
---
Final Thoughts

[sourceLink asin="" asin_jp="" cdj_product_id="" text="No More Heroes III" url="" ]
Usually, it is hard to flat out say buy a port when it has been only a year between releases but No More Heroes III is a favorite of ours and many others…so for us buying it seems like a no brainer. We do advise you to remember that besides some visual and system fixes, No More Heroes III is literally the same game…nothing new. No new weapons, fights, or DLC…this is No More Heroes III, yet again, and it's still a solid game. Are you readers going to buy No More Heroes III again or maybe for the first time? Comment below to let us know and keep stuck to our assassin-like hive here at Honey's Anime so we can dish out more game reviews and anime articles!
[author author_id="078″ author="" translator_id=""]
[ad_bottom class="mt40″]
---
[recommendedPost post_id='279233′ url="" title="" img=" class="" widget_title=""]
[recommendedPost post_id='251851′ url="" title="" img=" class="" widget_title=""]
Source link