While the summer 2023 anime lineup contains many must-watch titles, good historical romance anime like My Happy Marriage are scarce material.
Brought to life by studio Kinema Citrus (known for The Rising of the Shield Hero, Made in Abyss, and Black Bullet), My Happy Marriage is a romantic tale set in mid-1800s Japan (Meiji Restoration era).
In this anime, we meet Miyo Saimori, a young woman born into a noble family. Unfortunately, despite her status, she is treated poorly by everyone in her own family. After her mother's passing, her father remarries a heartless woman with a daughter named Kaya, who is just like her mum.
When the time for marriage arrives, both Miyo and Kaya become candidates for arranged marriages. But while Kaya is fortunate enough to marry a kind man whom Miyo likes, fate has a different plan for Miyo. She is destined to marry the man's brother, a military captain who is rumored to be ruthless and cold-hearted.
Here is a list of 10 sweet anime shows that are just like My Happy Marriage!
10. Snow White with the Red Hair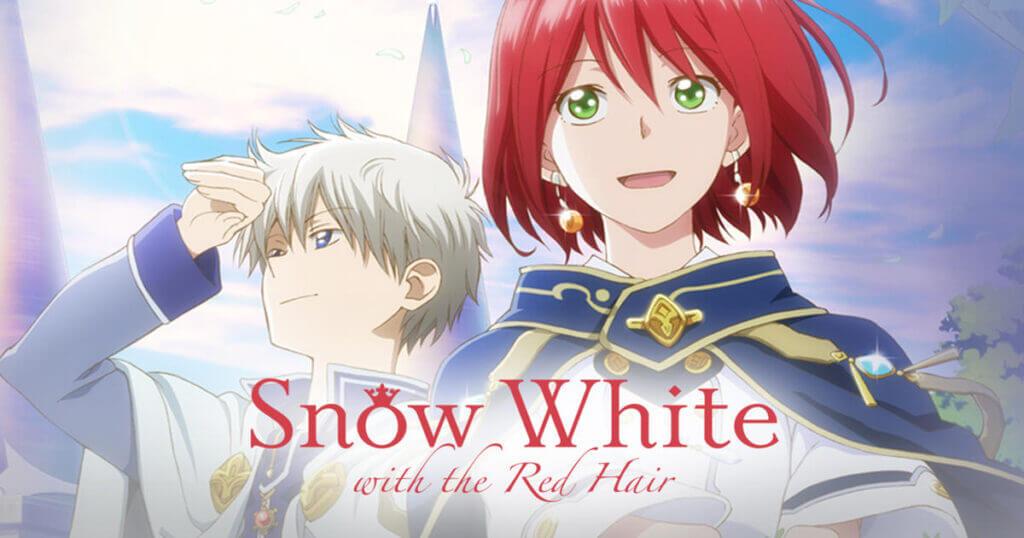 Snow White with the Red Hair captures the sweetness, heartfelt moments, and emotional depth found in My Happy Marriage, providing a delightful watch for fans of the series.
Follow Shirayuki, a skilled herbalist, on her exciting journey through a fantasy world packed with political drama. Watch as her romance with Prince Zen unfolds, bringing together a neat mix of love, adventure, and a touch of magic.
9. Kamisama Kiss
Kamisama Kiss is a delightful romance series that will sweep you off your feet. It offers a unique blend of gods, spirits, and a charming fox familiar. If you enjoyed the heartfelt journey of My Happy Marriage, Kamisama Kiss is the perfect choice to continue your immersion in captivating romance with a supernatural twist.
The heroine, Nanami Momozono, is a high school girl who unexpectedly becomes the new land god and finds herself sharing her home with the mischievous fox spirit familiar, Tomoe. Together, they embark on a thrilling adventure filled with magic, humor, and heartwarming moments.
8. Kakuriyo: Bed and Breakfast for Spirits
Kakuriyo: Bed and Breakfast for Spirits is a perfect fit for supernatural fans who are also foodies. In a similar vein to My Happy Marriage, Kakuriyo also starts with an arranged marriage. However, the main theme of Kakuriyo isn't romance but the importance of (delicious) food in our lives.
The story is about a college student named Aoi Tsubaki who has a knack for cooking. After her indebted grandfather passes away, she finds herself in a pinch when a rather mischievous ogre named Odanna wants to marry her.
But instead of succumbing to her seemingly unavoidable fate, our feisty protagonist negotiates a deal to work off her debt at his otherworldly Bed and Breakfast!
7. The Angel Next Door Spoils Me Rotten
In the cute anime series The Angel Next Door Spoils me Rotten , Mahiru Shiina, also known as the "Angel," is an incredibly beautiful and talented high school girl. Living next door is Amane Fujimiya, a neighbor and classmate she has never spoken to before.
But one fateful day, Shiina is caught in a rainstorm and Fujimiya surprisingly offers her his umbrella. Little did they know this will spark something special between them in the near future.
So when Fujimiya falls sick with a cold, Shiina decides to take care of him as a way of returning the favor. This leads to unexpected closeness, the development of feelings, and the discovery of their true connection.
Both The Angel Next Door and My Happy Marriage feature the main characters becoming closer and falling in love quite early. Also, they live together (in the former they live next door and spend most of the time in each other's apartments).
6. The Ancient Magus' Bride
Step into a mystical world where Chise Hatori, a young girl with a dark past, finds herself caught up in a magical apprenticeship to a mysterious mage.
In a like manner to My Happy Marriage, this enchanting anime delves into the complexities of an unconventional relationship, where the characters must learn to trust and support each other through thick and thin.
5. Horimiya
Horimiya is an unavoidable recommendation for fans of incredibly cute and lighthearted romance.
This anime revolves around two high school students who lead double lives, concealing their true selves behind masks at school.
However, their worlds collide in the most unexpected way when they happen to encounter each other outside of school due to some quirky circumstances. This fateful meeting sets off a chain of events that will forever transform their lives.
4. Psychic Princess
Qian Yunxi has always been mistreated by her family due to her extraordinary abilities. As a child, she was banished, but at the age of 16, she took her younger sister's place to marry into the royal family of Ye. While an arranged marriage isn't the end of the world, rumors suggest that Ye Youming, her betrothed, is a cold and heartless man.
This historical romance anime shares similarities with My Happy Marriage as it revolves around arranged marriages to unfamiliar men, notorious for their cruelty. However, as the female protagonist gets to know each male lead on a deeper level, a connection blossoms, leading to a heartwarming and fulfilling relationship.
3. The Duke of Death and His Maid
The Duke of Death and His Maid is another historical romance anime show like My Happy Marriage with a touch of the supernatural. But instead of a heroine who is treated with disdain and cruelty, we have a cursed boy called Bocchan as the MC. The curse causes everything living he touches to die.
Shunned by his family and banished to live in a secluded mansion with only a few loyal servants by his side, the only highlight of Bocchan's day is the seductive and beautiful maid Alice whom he dearly loves.
As a result of his growing feelings for Alice and also for his own sake, he resolves to break free from the curse that plagues him, regardless of the sacrifices it may entail.
2. Tonikaku Kawaii
Tonikaku Kawaii doesn't waste time on building up romance. After their fateful meeting, the couple marries in the first episode (although to its defense, it does a time skip).
From there, it's all about the fluffy, vanilla romance between two lovebirds, which we observe in their adorable daily interactions.
Similar to My Happy Marriage, Tonikaku Kawaii focuses on the cute relationship of the newlyweds. Their love is explored throughout their seemingly ordinary daily moments.
1. Taisho Otome Fairy Tale
For fans of My Happy Marriage, Taisho Otome Fairy Tale is the perfect historical romance to fill the void after finishing the former. The anime is a sweet and wholesome piece with a lot of touching moments.
Not only does this series deal with an arranged marriage, but it also has main characters who are shunned by their family.
In Taisho Otome Fairy Tale, Tamahiko's life takes an unexpected turn when, as a result of his disability, he is compelled to live in seclusion in the countryside by his affluent family. However, amidst the profound loneliness that engulfs him, a ray of hope emerges with the arrival of Yuzuki, his arranged bride.
BEFORE YOU GO…
Thanks for reading my article!
If you enjoyed it, please consider supporting me on Patreon. As a Patron, you'll gain access to exclusive perks like stunning AI artworks that are not shared anywhere else, personalized AI-generated art pieces, and the ability to shape the future of this blog by suggesting topics you'd like me to cover.
Your support means everything to me and enables me to keep creating content that I'm passionate about.
Also, you're welcome to join our 9 Tailed Kitsune Anime Discord community. We'd love to have you there!